Serving Naples & North Naples
why choose B & L Homewatch?
WE ARE HELD TO A HIGHER STANDARD
We are a professional Home  Watch service & accredited member of the NATIONAL HOME WATCH ASSOCIATION
We have passed a strict vetting process of background checks, consumer complaints or any other issues.
We are Bonded & Insured.
CERTIFIED HOME WATCH PROFESSIONAL

Owner Larry Wilson earned the designation Certified Home Watch Professional
One of the Elite Home Watch Providers in the industry
On-going training and professional development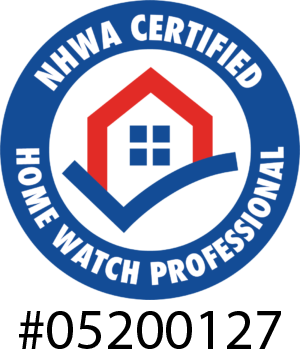 SERVICES BASED ON EXPERIENCE

Regular visits, weekly or bi-weekly, to your property may prevent or lessen property damage.
We will get regular, consistent, and accurate information to you during your absence.
You can plan to have work done while you are gone so it will be ready for you when you get back.
We have a storm plan, and we will implement it if a storm is imminent and we will inform you of your property's condition after a storm.
BETTER REPORTING & COMMUNICATION
Our Home Watch visits are time stamped and GPS located so you can be sure that we were at your property when we said we were.
Photos and comments highlight any issues found and the degree of urgency including immediate call if needed.
We are available 24/7 and will answer our phone or get back to you ASAP!
Home Watch – A visual inspection of an unoccupied home or property looking for obvious issues.
Are you concerned something bad could happen to your winter home while you are away for the summer? B & L HOMEWATCH is your solution. Home Watch is defined as a visual inspection of a home or property, looking for obvious issues. We will inspect your property and then email you a homewatch visit report with pictures and comments. We will contact you immediately if there are any serious issues that need to be addressed. We will work with you to resolve any issues so that you can rest easy that everything is taken care of by someone who has your best interests in mind.
My wife Bonnie and myself have been registered Florida residents for 29 years. We have owned both single family homes and condo's during that time. We also know what can go wrong during a summer down here. We have also seen what can happen if a home watch company or neighbor turns out to be unreliable.
A five-minute home watch visit cannot thoroughly check your property or a neighbor who does not call you or email you every time they visit your property may forget to stop by or possibly get sick and no one might check your property for a long period of time, we have seen it happen. If your AC fails, or you have even a small water leak in your plumbing system you could have big problems when you come back. Regular visits by a Professional Home Watch company that is bonded and insured can often prevent or lessen property damage.
B & L Homewatch provides a variety of services for all your home watch needs and associated concierge services. We will make it easy to pick and choose which services you want on a one time or ongoing basis. We do weekly and bi-weekly home watch visits that are customized to your needs. We check the outside areas around your house or unit, we do a thorough check inside looking for obvious issues, check pool area if you have one, the garage, and any out- buildings. We also have a list of concierge services that we can provide for you. If you do not see the service you need, ask us and if we can help, we will help.
WHY WE KNOW HOME WATCH IS A VALUABLE SERVICE
Bonnie and I stayed in our home in Florida when hurricane Irma hit in 2017. We watched as hardwood trees came down around our place and roads became blocked by down trees. However, the worst was yet to come when the power went off and stayed off for six days. Soon my cell phone started ringing and continued ringing many times each day. We are active in our community and I am president of our COA and therefore most everyone had my phone number, and they knew we stayed through the storm. We thought that most everyone had a home watch service or neighbor looking after their property. Most people wanted to know if we could check to see if there were damage to their homes. They also wanted to know if the power was still off and if so, please check their refrigerator/freezer for spoiled food. Many gave us door codes to get in, or told us where keys were hidden, or sent keys in the mail. It turned out there were several home watch people who left several days before Erma hit and did not return for 7 or more days after the storm was over. We wondered what kind of home watch people would leave and then stay away for days while their customer's property had serious problems. When we got into these houses and condo's we found that some had serious issues. Several had cracked or missing windows with water damage inside, others had damaged roofs with leaks that could be seen on the ceilings. By far the worst as far as smell and mess were some refrigerators and freezers that had rotten meat and spoiled food. Some had thick red liquid running out on the floor and the smell was terrible. Bonnie and I cleaned up these messes and made many trips to the dumpsters, we also put heavy duty plastic sheets where broken windows were to limit additional damage. We updated the owners and worked with them to get some of the problems resolved. We had some of our own problems with just trying to keep our cell phones charged, even ended driving around to get them charged up. We have since went out and purchased several power banks so we should not have that problem in the future.
Before the storm we had been strongly considering going into the Home Watch business since we are living in an area that has a high percentage of the residents being seasonal
As we were doing things to help our neighbors and friends we began to think, if some of the home watch people were not helping their customers and we were stepping in for them, maybe we should seriously consider going into the business. We are both very conscientious of the value of giving great customer service.
Then we discovered the National Home Watch Association and their great system for training and certification. They also had all the tools and vendors we needed to get our business up and running. They thoroughly vetted us, gave additional training and certification as well as what kind of insurance and bonding we needed and where to get it.
We then took all the steps necessary to become affiliated with the National Home Watch Association, got insured and bonded, got state of the art software for home watch reporting and Quick Books for billing and accounting. We now enjoy giving great service to our customers and taking care of their properties while they are away.
If you want someone who is very knowledgeable and thorough in home watch and who really enjoys their profession, then contact us. We will gladly meet with you and see if we are a good fit for what you are looking for.
We are in North Naples and cover an area starting North of Immokalee Road just off Interstate 75 into Quail West, then east to Heritage Bay on Immokalee Road and west on Immokalee Road to Gulf Shore Blvd then running south along the Gulf Shore Blvd to just south of Pine Ridge Road.
B & L Homewatch Owners – Bonnie & Larry Wilson